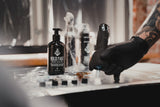 HOLD FAST Stencil Solution
Light gel for stencil transferring. Recommended by artists worldwide.
This solution literally 'holds fast'
I love this stencil solution better than any other solution out there!!! Every other solution comes off too easy where as hold fast literally does what the name says…. It doesn't come off while you're tattooing and patting down your lines or wiping them away , your stencil stays…. I swear by this stuff and I hate when I run out and forget to order more…. It's the only solution I like to use.
Awesome
Best stencil product shipping was a joke
Beat stencil adhesive I've used
Best stencil product there is!
Not only does this magical elixir give you a beautiful stencil that lats all day & then some, it smells incredible too. I dont think I have a single customer who hasn't commented on how nice it smells since I started using this product. Love it!