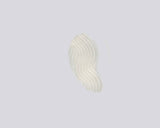 Our original formula tattoo glide for calm skin and perfect results! 

Works great as a tattoo aftercare ointment too.
Great Product
This product is simply awesome. Not very sticky and hydrates your tatted are while promoting to heal.
Wonderful product
I just started using this in place of another process butter, and this one is the best. It takes so little of it to keep the skin fresh while tattooing, it doesn't take away the stencil, it keeps redness down, and it doesn't gunk up my needles which is super important. Pretty sure I'm gonna use this stuff the rest of my career.
Process butter review
Have been using process butter and stencil solution all week and really like them. Have not had a chance to try the other products. Will continue to use these products. Wondering if single use packets of the process butter are available?
Sorry Mom Process Butter - 6.76 oz
Amazing!!
The Sorry Mom Process Butter is one of the best products I have ever used on the skin while tattooing. Its smooth, comes in large tubs at a fair price, smells great, and most importantly does not smear the stencil like other products on the market. I would highly recommend this product to any tattooer looking for a petroleum free process butter. Thank you Sorry Mom for making such a great product.
HERO INGREDIENTS
Full Ingredient Glossary
Almond oil
A gentle, nourishing oil suitable for all skin types (especially dry and sensitive). Rich in essential fatty acids, vitamins and amino acids, it helps to soften and nourish the skin.
Jojoba oil
A liquid wax produced in the seed of the jojoba plant. Rich in vitamin e, jojoba oil is an amazingly light, nourishing oil that absorbs quickly into the skin and protects against moisture loss.
Macadamia oil
A highly nourishing oil high in Oleic acid (potent moisturising qualities); it absorbs easily into the skin to moisturise and protect dry, damaged and mature skin.
Brazil nut oil
A highly moisturising oil high in antioxidants, brazil nut oil helps to hydrate the skin and prevent premature aging. Would be the dancing girl emoji.
Apricot kernel oil
A light, gentle oil that comes from the kernels (seeds) of apricots. High in essential fatty acids and vitamins E and A, it helps to balance, nourish and soften the skin.
Evening primrose oil
Rich in fatty acids including linoleic acid and gamma linoleic acid, evening primrose oil is extremely hydrating and helps improve skin tone and texture.
Buriti oil
A hydrating and moisturising oil extracted from the fruit of the moriche palm. Has anti-inflammatory properties that help reduce redness, roughness and irritation.
Arnica extract
A strong anti-inflammatory that helps reduce redness and swelling of the skin.
Rosehip oil
Contains high levels of fatty acids and vitamin C which help to hydrate dry skin and aids in the prevention of wrinkles and premature aging.
Calendula extract
Extracted from calendula flowers, calendula is excellent for soothing and calming the skin.
Kiwi fruit seed oil
With high levels of antioxidants and essential fatty acids, kiwi fruit seed oil helps to maintain moisture and prevent skin from drying out. Great fruit salad addition.
Tocopherol
A powerful antioxidant that preserves the product AND prevents free radical damage on the skin.
Totarol
A powerful natural antibacterial and antioxidant extracted from the recycled totara wood.
Rosemary leaf extract
An antioxidant that helps protect against free radical damage and the effects of environmental stresses on the skin.
Natural fragrance
Derived from natural plant extracts. Smells yummo.